Watermist developed Hydramist fire protection products specifically to meet the needs of the custodial sector, to improve life safety and aid prison management. Deliberately started fires and the dangers of smoke inhalation are among the life safety concerns in prisons. Traditional fire hose reels and sprinklers were insufficient to meet these fire safety challenges.  
Water mist fire protection developed specifically for custodial facilities
At the request of the Ministry of Justice, the Building Research Establishment conducted extensive research and testing on fire protection solutions. Their findings confirmed that high-pressure water mist provides the fastest fire and heat suppression, along with the unique ability to rapidly reduce smoke spread. Working closely with the Ministry of Justice, Watermist Ltd has developed a comprehensive range of high-pressure water mist products specifically for custodial facilities.
Unparalleled Expertise in Custodial Fire Protection:
Watermist, with its Hydramist products, stands out as the sole company to have developed a complete line of water mist fire protection products exclusively for the custodial sector.
Our water mist solutions are trusted and widely used in over 200 custodial facilities across the UK, Europe, and Australia.
Proven Life safety benefits of Hydramist Fire Protection
Hydramist products have undergone independent testing by the Ministry of Justice, the Building Research Establishment and the Commonwealth Scientific & Industrial Research Organisation CSIRO.
Key life safety feature of Hydramist products include:
Fastest Fire Protection: Suppresses fire and heat within minutes.
Effective Smoke Reduction: The only fire solution that combats smoke and maintains a breathable environment.
Anti-Ligature Nozzles Developed for the Custodial Sector.
Enhanced Prison Staff Security: Eliminates the need to enter cells to fight fires.
Robust and Tamperproof Design: Resistant to challenging prison conditions.
Safe to use on hydrocarbon and electrical fires
Comprehensive Range of Water Mist Solutions
Watermist offers an extensive selection of automatic and manually-operated water mist solutions, including pumps, nozzles, hose reel cabinets, mobile units, and UPS power backup systems, specifically designed for custodial facility requirements in close cooperation with the Ministry of Justice.
Our research and development facility is known for its continual innovation of new solutions. Explore our custodial product video for detailed information.
Operational Benefits for Staff and Facilities Managers:
Hydramist water mist fire protection offers practical and operational benefits for staff and facilities managers across a wide range of custodial facilities, from small police custody suites to large modern prisons. Experience the following advantages:
Low Water Usage: Prevents cell flooding and eliminates the need for evacuation.
Minimal Clean-Up: Reduces fire, smoke, and water damage.
Versatile Systems: Range of automatic and easy-to-operate manual systems available.
Fast and Easy Installation: Less disruptive during retrofitting projects.
Easy Maintenance.
Harmless to Electrical and Data Equipment: Tested and proven.
Superior Lifespan: Longer-lasting systems compared to other fire protection solutions.
Space-Saving Design: Smaller pumps, water tanks, and pipes.
Contact Us for Expert Advice and Support:
For guidance on custodial new builds or retrofitting projects, or to find your nearest Hydramist installer in your country, please reach out to info@hydramist.co.uk or call + 44 (0) 800 731 9288.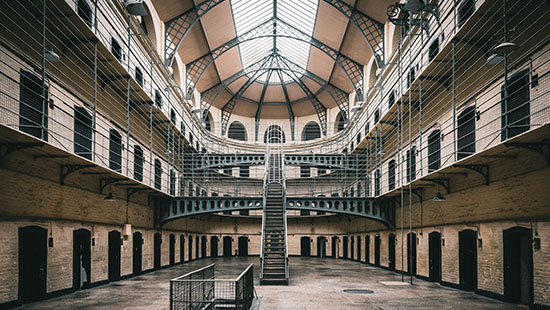 Custodial Fire Protection Solutions video: Watch our Custodial Fire Protection video to explore the range of Hydramist products designed specifically for the custodial sector
Discover How Water Mist Fire Protection Works: Learn about the working principles of water mist fire protection and understand why it offers the safest and most efficient fire protection 
Watermist International Distributorship Opportunities: If you are interested in becoming an installer or distributor in your country, Watermist can provide comprehensive support, including design, technical assistance, sales and after-sales support, training, and marketing materials.