Restaurant kitchens pose acute fire risks, with multiple appliances at high temperature and flammable oils. High pressure water mist is the fastest, safest solution for cooking fat and electrical fires – and without the disruption caused by chemical-based fire systems.
Fire tests carried out in the presence of insurers show that Hydramist water mist solutions extinguish fires in professional ovens and fryers within 40 seconds.
Five Reasons to Choose Hydramist for Restaurant Kitchens:
1-Proven Efficiency: Hydramist products are designed, tested, and proven to effectively extinguish fires caused by cooking oils and ovens – and they are safe for use on electrical equipment.
2-Combats Smoke: Hydramist's high-pressure water mist rapidly reduces spoke spread.
3-Quick Recovery: Hydramist is a clean solution that uses minimal water and no chemicals, allowing your restaurant to resume operations swiftly after a fire incident.
4-Prevents Fire Reignition: Hydramist's fast cooling properties effectively prevent the fire from reigniting.
5-Compact Design: Hydramist's wall-mounted fire protection systems are designed to fit seamlessly into kitchens of all sizes.
Functionality of Hydramist Water Mist Systems in Professional Kitchens
Hydramist water mist systems in restaurant kitchens are powered by a small wall-mounted pump unit, connected via a small stainless steel pipe, to water mist nozzles positioned near cooking equipment. These nozzles are automatically triggered by pre-defined temperature thresholds or can be activated by flame or smoke detection.
If a fire occurs, the nozzles emit a fine mist that rapidly cools surfaces, suppresses the fire, and reduces smoke spread. Unlike chemical-based fire protection systems that can lead to several days of kitchen downtime, Hydramist works quickly and utilizes minimal water, ensuring your kitchen can get back to business in minutes.
Professional installation, maintenance and installation of your fire protection system
Watermist's international network of approved and trained partners provide professional installation, maintenance and after sales services. Contact us on  +44 (0) 800 731 9288 or info@hydramist.co.uk for advise on kitchen fire suppression or to connect with your approved local supplier.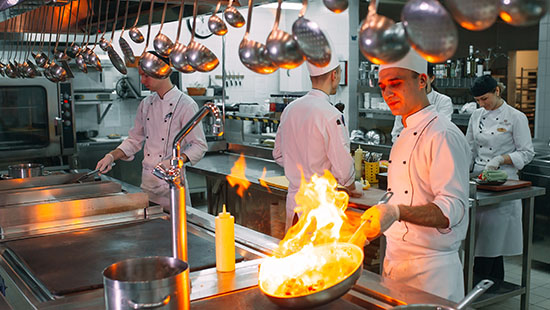 Witness the independent test which shows how Hydramist extinguished a kitchen fryer in just 40 seconds. 
Discover why Nando's award-winning sustainable restaurants use Hydramist kitchen fire protection systems.  
To discuss fire protection for restaurant kitchens, contact Watermist Ltd at +44 (0) 800 731 9288 or email info@hydramist.co.uk.