Low Wood Bay Resort & Spa is a luxury hotel located on the shores of Lake Windermere. Originally an 18th century coaching inn, the hotel recently underwent major investments and expansions, which included the addition of an exclusive sports centre and spa. The hotel required a high performance fire solution to protect its sauna, which represented its most important fire risk.
The Hydramist water mist fire protection system for saunas was chosen for its fast, reliable performance and compact design.
Proven to suppress sauna fires in less than two minutes
The Hydramist high pressure water mist solution selected by the Low Wood Hotel is specially designed for the protection of saunas. Fast-acting, the system has been proven in tests by Building Research Establishment to suppress sauna fires in less than two minutes. High pressure water mist's fast-cooling capabilities prevent reignition of the fire. It also has the unique advantage of rapidly reducing the spread of smoke.
By preventing the spread of smoke and fire, while using only very small amounts of water, normal business operations can quickly be resumed throughout the hotel should a fire occur. The sauna itself will normally only require the replacement of a new water mist nozzle before reopening to guests.
Compact, discreet design – fast installation
The sauna protection system is powered by a compact, wall-mounted pump – the Hydramist 15APU. No water tank is required as the pump is fed directly by the hotel's own water supply. The pump is linked, via a 12mm diameter stainless steel pipe, to a Hydramist water mist nozzle, located on the ceiling above the sauna heater. Should a second sauna be added to the hotel's spa, the same water mist pump can be used to protect both saunas, with one nozzle located in each sauna room. Due to the compact size of the system and components, installation was completed in less than a day.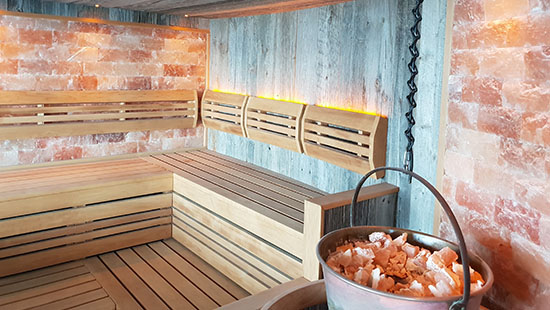 Learn more about the innovative Hydramist water mist solutions designed to provide fast and efficient fire protection for saunas. 
Learn about the safety benefits of Hydramist's high-pressure water mist fire protection technologies.
Need expert advice for your sauna fire protection projects? Contact us now! Reach out via email at info@hydramist.co.uk or call us at +44 (0) 800 731 9288. Our team is here to assist you!