Longest battery life and compact size – ideal for a wide range of power back-up applications
Reliable, cost effective back up power supply.
In the event of a power outage, the Hydramist UPS is test proven to ensure continuous operation of fire protection equipment, such as water mist pumps and hose reels, for up to 30 minutes. This makes it a practical and cost-effective backup power supply solution compared to the installation and maintenance costs of secondary power supplies, like generators.
Wide range of use applications
The Hydramist UPS is tested and proven to provide reliable backup power for a wide range of applications.
Compact and robust, the Hydramist UPS is the trust choice for uninterruptible power supply for a wide range of buildings, including:
Custodial facilities
Restaurant kitchens
Remote locations and temporary installations
Military and defence installations
Storerooms and small retail units
Offices and banks
Or any location where back-up power is required!
UPS Key Benefits – longest lifetime, quick to install and easy to maintain!
-Compact size – much smaller than similar UPS units or generators
-Superior longevity, expected battery lifetime of over 10 years (vs 3 to 5 years for other UPS units)
-Runs motors of up to 3kW for over 30 minutes
-Fast installation on wall or recess mounted. Either adjacent or remote from fire equipment.
-Easy maintenance with digital display panel for battery status
-Robust and tamperproof design to withstand the most challenging environments
Hydramist UPS Standards and Compliance
Ministry of Justice STD/E/SPEC/018
Ministry of Justice STD/E/SPEC/045
BS EN 62040-1
BS EN 62040-2
Invest in the Hydramist UPS today and ensure the safety and continuity of your operations with the most advanced and reliable backup power supply on the market.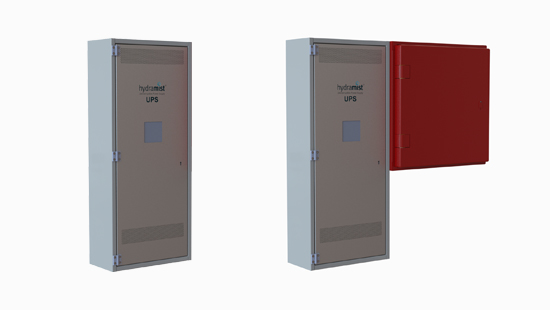 Discover our full water mist product range
See how water mist works and discover the key life-saving and operational benefits
Get in touch on +44 (0) 800 731 9288 for more information about the Hydramist UPS or to discuss engineered fire protection solutions for your project.