The Hydramist Mobile 8 is a unique, mobile water mist fire protection solution, developed to improve life safety in custodial facilities worldwide.  
The ready-to-use unit, containing a water mist pump, water tank, hose reel, and nozzle, instantly delivers all the advantages of high pressure water mist wherever needed. Read on to learn more.
Instantly delivers powerful, cost effective fire protection solution
The Mobile 8 instantly brings all the life safety advantages of high pressure water mist, packaged in a fast, compact and cost effective solution.
The Mobile 8 is a tamperproof fire protection unit that houses a water mist pump, water tank, hose reel and nozzle. Just plug in and the Mobile 8 is instantly ready to protect prisons, custody suites, detention centres and courthouse cells and other areas against fire.
Proven to Suppress Fires and Reduce Smoke Spread in minutes
Developed in accordance with the specifications of the Ministry of Justice, the Hydramist Mobile 8 has undergone rigorous independent testing by esteemed organizations like the Ministry of Justice, the Building Research Establishment, and the Commonwealth Scientific and Industrial Research Organisation (CSIR0).
These comprehensive fire tests validate the Mobile 8's capability to efficiently suppress cell fires and minimize smoke propagation within minutes. Its life-saving performance has been widely acknowledged in real-life prison fire incidents, making it a trusted choice in custodial facilities across the UK and internationally.
Flexible and User-Friendly Fire Protection Solution
Equipped with a handheld lance featuring an LED torch and a high pressure water mist nozzle, the Mobile 8 ensures ease of operation and adaptability. The lance is designed for convenient insertion into cell door inundation points or can be aimed directly at fires in other areas, such as corridors or association areas. With a 35-meter hose and exceptional manoeuvrability, the Mobile 8 offers unique flexibility, making it an ideal fire protection solution for a wide range of environments.
Contact +44 (0) 800 731 9288 or info@hydramist.co.uk for more information on water mist fire protection.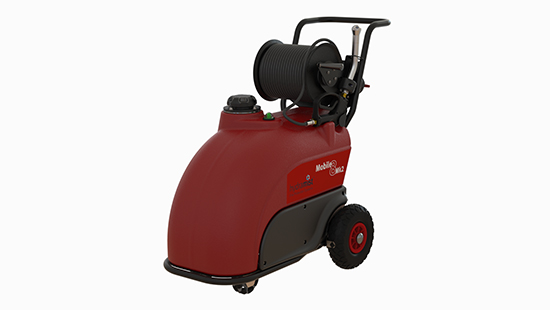 Watch the Video to see how the Mobile 8 works, providing fast water mist fire protection anywhere 
Watch our video showcasing our range of water mist products designed for the custodial sector 
Discover the working principles of water mist and the significant life-saving and operational benefits it offers.  
Get in touch on +44 (0) 800 731 9288 or info@hydramist.co.uk for more information about the Hydramist Mobile 8 or to discuss engineered fire protection solutions for your project.