Biomass facilities present fire hazards due to the combination of high volumes of combustible materials, dust build up, and equipment overheating. Fire fighting conditions in biomass facilities can be particularly challenging. Hydramist's high pressure water mist fire systems are an ideal solution to protect biomass facilities, as seen at the E.ON Energy biomass dept in Liverpool.
E.ON Energy's Biomass Depot at Liverpool Docks
Located at Liverpool docks, E.ON Energy's biomass depot is a crucial hub for transferring and distributing biomass from all corners of the globe. To safeguard this vital facility, Hydramist fire misting solutions were chosen to protect the depot's transfer towers and three primary biomass conveyors, which together span over 700 meters in length.
Fire protection requirements: A zonal Hydramist High Pressure Watermist System
The fire protection system at the E.ON depot is powered by a Hydramist water mist pump unit, with 100% redundancy, connected to a water supply.  Each conveyor is divided into fire zones, with a dedicated flame detector, zone valve, fire control panel, stainless steel piping and water mist nozzles. For maximum protection, the flame detectors and nozzles are installed inside the conveyor covers.
Built to Last: Anti-Corrosive Stainless Steel Fittings and Pipework
Ensuring the long-lasting performance of the fire installation in this challenging environment, all fittings and pipework use anti-corrosive stainless steel materials. This design feature enhances the overall durability and lifespan of the fire protection system.
Efficient Fire Suppression Operations
When one of the flame detectors senses fire, a signal is sent to the pump. Water is emitted through the nozzle at pressure to form a fine mist. The atomised water is drawn directly to the source of heat and has a two-fold extinguishing effect – it rapidly cools down the fire and starves the flames of oxygen. The cooling effect also prevents reignition.
With Hydramist's cutting-edge fire solutions, E.ON Energy's biomass depot now enjoys comprehensive and robust fire protection, guaranteeing the continued safe and efficient transfer of biomass.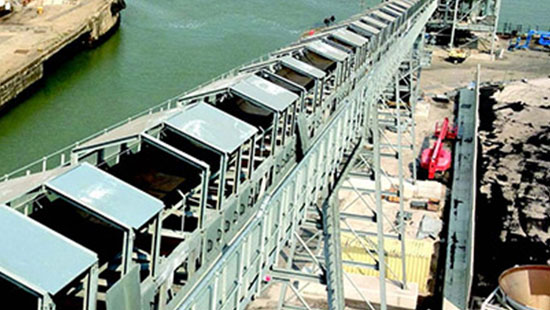 Learn why Hydramist is a the most sustainable fire suppression
Want the fastest way to gain all the life-safety advantages of high pressure water mist fire protection? Check out the Hydramist Mobile 8. A versatile, ready-to use mobile unit, complete with pump, water tank, hose reel and nozzle. Plug in and use anywhere. 
Contact us today to discuss how we can optimize fire protection for your biomass and energy projects. Reach out to us via email at info@hydramist.co.uk or call us at +44 (0) 800 731 9288.