Protect your building from fire, heat, and smoke with Hydramist's high-pressure water mist pumps. Our team of experts has been engineering innovative fire protection solutions for nearly 20 years. Discover our range of customizable, industry-compliant pumps for any building application. Contact us today at +44 (0) 800 731 9288.
Engineered fire protection for a range of building applications
Our high-pressure water mist pumps come in different sizes, capacities, and water flow rates, including compact, wall-mounted pumps, and modular pumps for fire protection in large, complex buildings. They have undergone rigorous testing and approval processes to ensure they meet fire protection standards for different building facilities and risk levels.
At Hydramist, we are committed to providing personalized fire protection solutions that cater to your project needs. Get in touch with us at +44 (0) 800 731 9288 to discuss the best fire protection options for your project. Choose Hydramist high-pressure water mist pumps for the ultimate fire protection solution.
Explore our Range of High-Pressure Water Mist Pumps: CWPU, MPS, and APU
CWPU Compact water mist pump unit with integrated water tank
Modular Water Mist Pump System (MPS) for Effective Fire Protection in Large Buildings
APU Compact Wall-Mounted Water Mist Pump: Ideal Fire Protection for Kitchens, Storage Areas, Saunas, and Data Rooms
Hydramist water mist solutions Key benefits
Proven fast, efficient protection against fire and heat
Safest solution – high pressure water mist is the only solution to reduce the spread of smoke
Compact systems – smaller pumps, tanks and pipes than traditional sprinklers
Low environmental footprint – less water, lower energy, fewer metal resources
Fast and easy to install and maintain
Resistant and durable systems
Modulable – grows with your facilities
Protects your operations – fast action and low water use get you back to business in minutes!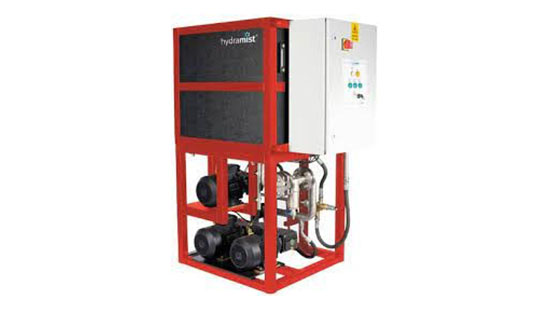 Discover our full product range 
See how water mist works and discover the key life-saving and operational benefits
Get in touch on +44 (0) 800 731 9288 or info@hydramist.co.uk for more product details, or for expert advice on your fire protection project