Fitness First health clubs, a prominent chain of health and fitness centres in the UK, decided to upgrade the fire protection measures for several of their saunas. Working closely with their insurance company, they opted for Hydramist high-pressure water mist systems, specifically designed to provide reliable and efficient fire protection for saunas.
The Sauna Fire Risk
Saunas, known for their high temperatures and combustible materials, pose a unique fire hazard. Common causes of sauna fires include electrical faults, thermostat malfunctions, and accidental failure to switch off heaters. Moreover, towels left in saunas might ignite due to the presence of cosmetic products or oils used by guests. The repercussions of sauna fires can be severe, rapidly spreading to other areas of the building.
Given the relatively high risk of sauna fires in hotels and leisure centres, additional fire protection measures are essential to ensure the safety of occupants and assets.
Compact and Efficient Sauna Fire Protection
To address these critical fire risks, Fitness First chose the Hydramist water mist fire protection solution. The system is compact and efficient, consisting of a small, wall-mounted pump unit installed near the sauna, and a Hydramist water mist nozzle positioned above the sauna heater. Unlike traditional fire suppression systems, Hydramist doesn't require a water tank, as it directly connects to the hotel's main water supply.
The installation process is hassle-free, and the system can be easily retrofitted into existing saunas and steam rooms. Thanks to the slim diameter of the stainless steel pipes used, a full installation can be completed in just a few hours.
Swift and Effective Sauna Fire Suppression
The water mist nozzles located in each sauna are automatically activated when heat levels in the sauna reach a predefined temperature. The pump feeds water to the nozzle, which emits a fine mist of water. This mist instantly converts to steam upon contact with the flames, cooling the fire and surrounding surfaces.
Testing of the Hydramist sauna solution by the Building Research Establishment show that it suppresses and extinguishes fires in saunas in less than 2 minutes. Hydramist's fast-cooling abilities prevent reignition. High pressure water mist also has the unique advantage of rapidly reducing the spread of smoke. As only small amounts of water are used by the misting system, the sauna can quickly be back in operation and other business activities of the hotel are not disrupted.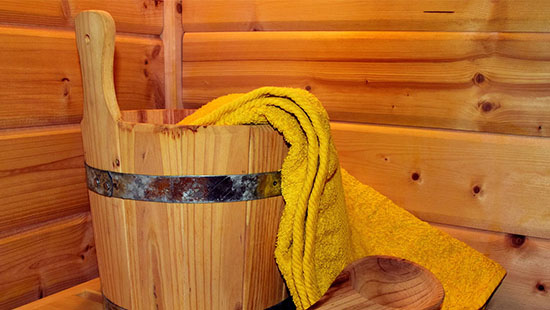 Learn more about Hydramist's water mist solutions designed to provide fast and efficient fire protection for saunas. 
Discover why Hydramist's high-pressure water mist systems offer the fastest, safest, and cleanest fire protection solution for restaurant kitchens 
Take Action Now! Your sauna's fire protection is a critical aspect of your facility's safety. To safeguard your health facilities, connect with your nearest Hydramist sauna fire protection installer in your country by contacting info@hydramist.co.uk or calling +44 (0) 800 731 9288.