Nando's is an international restaurant brand with a desire to change lives at the core of its DNA. Continually innovating to reduce its environmental footprint, Nando's uses Hydramist water mist fire systems to protect nearly 200 kitchens, thanks to its high performance systems  which align with the restaurants' sustainable commitments.
Fire protection in line with Nando's sustainable commitments
Nando's has developed its own Sustainable Fit Out Guide for all its properties and has won restaurant industry awards for sustainability. Recycled and natural materials are used throughout the restaurants and innovations to reduce water consumption has been implemented. Solar panels and renewable energy sources provide the restaurants power. The Hydramist fire protection systems used by Nando's contribute to the restaurant chain's sustainable objectives.
Chemical-free fire protection for restaurants with Hydramist
Hydramist high-pressure water mist systems for kitchens offer significant benefits over traditional fire suppression systems, both in terms of performance and environmental impact. Previously, Nando's relied on chemical fire systems, but their environmental concerns and laborious clean-up processes prompted the switch to Hydramist.
With Hydramist, no chemicals of any kind are used – only small amounts of water, which leave very little residue. In terms of hardware requirements, the green footprint of high pressure water mist is at least 30% lower than other systems, as fewer and smaller components are used. These were key considerations for Nando's.
Compact, efficient fire systems for restaurant kitchens
The key elements of our professional kitchen solutions are localised Hydramist water mist nozzles, small diameter piping and the Hydramist 15AMPU – a compact, wall-mounted pump unit. As the Hydramist pump uses the kitchen's own fresh water supply, no separate water tank is needed.
The Hydramist 15AMPU was the first water mist fire suppression system in the world to achieve an LPCB approval from the Building Research Establishment (BRE).
Unrivalled fire protection performance for professional kitchen business continuity
The Hydramist fire systems used by Nando's were specifically developed for professional kitchens and have undergone extensive independent testing. Fire tests on cooking fat fires showed Hydramist to suppress the fire within 40 seconds.
High-pressure water mist is the swiftest and most effective solution for suppressing fire and smoke, particularly in deep fat fryers. Hydramist kitchen fire systems extends to all cooking areas of professional kitchens, with zero risk of damage to electrical equipment.
When a pre-defined temperature is reached at one or more water mist nozzles, the system is automatically triggered. The pump propels water under high pressure through stainless steel pipes to the activated nozzles, creating a fine mist that cools and suppresses fire and smoke in record time. This minimizes damage and prevents re-ignition. Unlike chemical-based systems, only the nozzles located above the fire are activated, allowing kitchens to resume operations within minutes.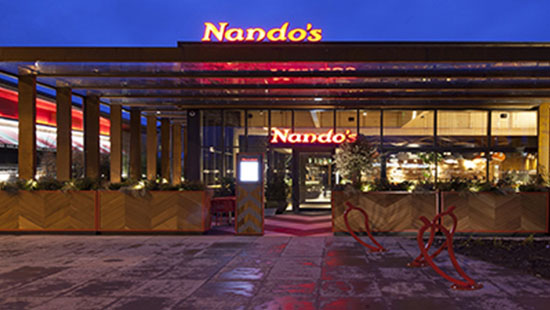 Witness the independent test which shows how Hydramist extinguished a kitchen fryer in just 40 seconds.
Learn why Hydramist's high-pressure water mist systems offer the fastest, safest, and cleanest fire protection solution for restaurant kitchens.
To discuss the fastest, safest, cleanest fire protection for your restaurant kitchens, contact Watermist Ltd at +44 (0) 800 731 9288 or email info@hydramist.co.uk.