HMP Glen Parva/Fosse Way, one of the UK's largest and most modern prisons has been equipped with Hydramist water mist fire protection solutions, specifically designed for the custodial sector.
Fire protection for HMP Fosse Way, a prison designed to provide a secure, safe environment.
HMP Fosse Way is a £286m facility, on the site of the former Glen Parva prison. Built to accommodate nearly 2,000 prisoners, Fosse Way is designed to provide a secure, safe environment for inmates and to aid reintegration through its state of the art educational, training and sports facilities.
The construction is one of the large titan-style prisons within the UK government's plan to create 20,000 new prison places. At HMP Fosse Way, there are seven, four-storey house blocks. Each self-contained house block comprises four wings of cells, with a central hub for catering, laundries, workshop, and association spaces.
Automatic In-cell fire protection systems to enhance life safety
The fire protection system at HMP Fosse Way is powered by Hydramist 300 MPS water mist pumps located in the plant room of each houseblock and Hydramist 200 MPS pumps in the prison segregation units. All pumps have integrated water storage break tanks and are compliant with Ministry of Justice STD/M/SPEC 054-specifications.
The pumps are connected, via stainless steel pipework, to the wall mounted Hydramist anti-ligature water mist nozzles located in each cell. In the event of a cell fire, water mist is emitted at high pressure to the affected area only. Fire and heat are suppressed in minutes and smoke spread is rapidly reduced to maintain a breathable environment for detainees and prison staff.
Hydramist Water mist hose reel cabinets to reach all areas of house blocks
In addition to the in-cell water mist nozzles, Hydramist water mist hose reel cabinets were installed in the central communal hubs of all seven house blocks, on each of the four floors. Designed specifically for the custodial sector, the STD/M/SPEC 045-compliant hose reel units are robust and tamper-proof. Each unit comprises a hose reel assembly with 50 metres of high pressure, impact-resistant hose and a manually operated lance with a high-pressure water mist nozzle. Long enough to reach all areas of the house blocks, the hose reel can also be used to project water mist through inundation points located in cell doors.
Hydramist water mist fire protection in over 200 custodial facilities
Hydramist misting systems protect over 200 custodial facilities, from small police custody suites to large titan prisons.
To discuss engineered fire protection solutions for your custodial facilities or to become an accredited internal supplier, contact info@hydramist.co.uk or call + 44 (0) 800 731 9288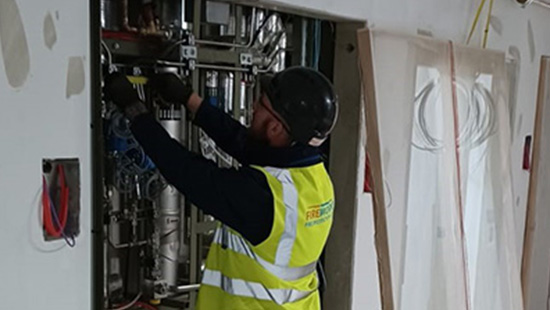 Hydramist Water Mist Fire Protection: Trusted in Over 200 Custodial Facilities Worldwide
Read the Case Study at HMP Stocken and Explore the Water Mist Fire Protection for this Award-Winning Prison