HMP Stocken prison has achieved awards for the quality and safety of its environment. Following several expansions, including a new 214-place houseblock, Hydramist fire protection systems were chosen to protect Stocken's  different areas and fire hazards. This enabled HMP Stocken to become the first UK prison to incorporate the Ministry of Justice's NOMS fire safety standards.
Water mist systems designed specifically for custodial fire risks
The Hydramist fire system at HMP Stocken includes automatic and manually-operated misting solutions. Water mist nozzles are installed for in-cell protection and special-hazard areas, such as laundry rooms. Manually-operated water mist hose reel cabinets are used to protect other areas of the building. Powering the system is a Hydramist high pressure water mist pump. All are connected via a network of concealed stainless steel pipes.
The entire Hydramist misting system is designed and developed  specifically to improve life safety in custodial environments and is tested and approved by BRE and the Ministry of Justice.
Lifesaving solutions for automatic in-cell fire protection
Each prison cell is equipped with a Hydramist wall-mounted, anti-ligature nozzle. If a fire occurs, no manual intervention is required, as the nozzles are automatically activated.  Fire, heat and smoke are suppressed in minutes, avoiding the need for evacuation. 
Manually-Operated Water Mist Hose Reel Cabinets
The Hydramist water mist hose reels are housed in robust, tamperproof steel cabinets, complete with a 50 metre water mist hose reel, handheld lance and water mist nozzle.
Located on, or into, wall surfaces, each cabinet is connected to the central Hydramist pump unit. The easy to use lance can be inserted directly into cell door small inundation points, or used to suppress fires in other areas of the prison.
Fire Protection designed for Special Fire Hazard Areas
Hydramist 'closed' water mist nozzles are used for special fire hazard areas, such as laundry rooms.  These nozzles are automatically activated when heat in the room reaches a pre-determined temperature. The Hydramist pump is then triggered and water mist is emitted only from the areas  where nozzles have been activated.
Fast Installation
Watermist's UK installer, Fireworks Fire Protection, completed installation, testing and commissioning of HMP Stocken's fire protection in less than two months. The entire system was tested to a limit of 150% of its designed operating pressure for a total of 10 minutes and then at normal operating pressure for a further 110 minutes.
Hydramist fire protection for your custodial facilities
Hydramist water mist equipment protects over 200 custodial facilities worldwide, from police custody suites to large titan prisons, worldwide. Contact us on info@hydramist.co.uk or call + 44 (0) 800 731 9288 if you would like to discuss your project, or if you are interested in becoming one of our accredited international partner-installers.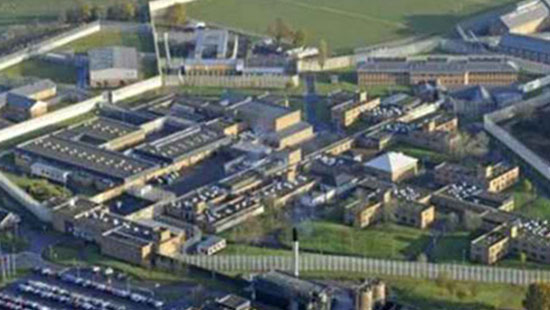 Watch the Custodial Fire Protection video to see the range of Hydramist products especially designed for the custodial sector.
Case study Glen Parva titan prison and Hydramist fire protection systems 
To discuss engineered fire protection solutions for your custodial facilities, contact info@hydramist.co.uk or call + 44 (0) 800 731 9288